These are news items and announcements of
Wyoming Lions Club projects and events.
Saratoga Lions skijoring races
February 3, 4, 5
The weekend of February 3, 4, 5 th. of February 2023 marks the 5th. annual Saratoga Skijoring Races hosted by the Saratoga Lions Club in partnership with the Carbon County Visitors Council.
Friday February 3 is the registration at the Wolf Hotel. Races are conducted on Saturday and Sunday normally from 10:00 AM to 4:00 PM. The event consists of a horse and rider pulling a skier on the Buck Springs Track collecting rings and taking jumps during the run.
The races are held at the Saratoga Lions Buck Springs Arena and Track northeast of Town on County Road 205. Admission is $5 per adult each day. Children 12 and under are free. There are food and beverage vendors available each day.
The Saratoga Lions are very grateful to the numerous members of the Community who help at the track and contribute sponsorships. Support from businesses like Dan McGuire Trucking, Raymer Construction, and the Brush Creek Ski team have been essential.
The Skijoring race concept was suggested to the Saratoga Lions by the Saratoga Jaycees as an alternative event to replace the Chariot Races. After 35 years of hosting the Chariot Races the number of racing teams declined until the expense to host was not warranted.
Saratoga Lions hang Christmas decorations
on Thanksgiving weekend.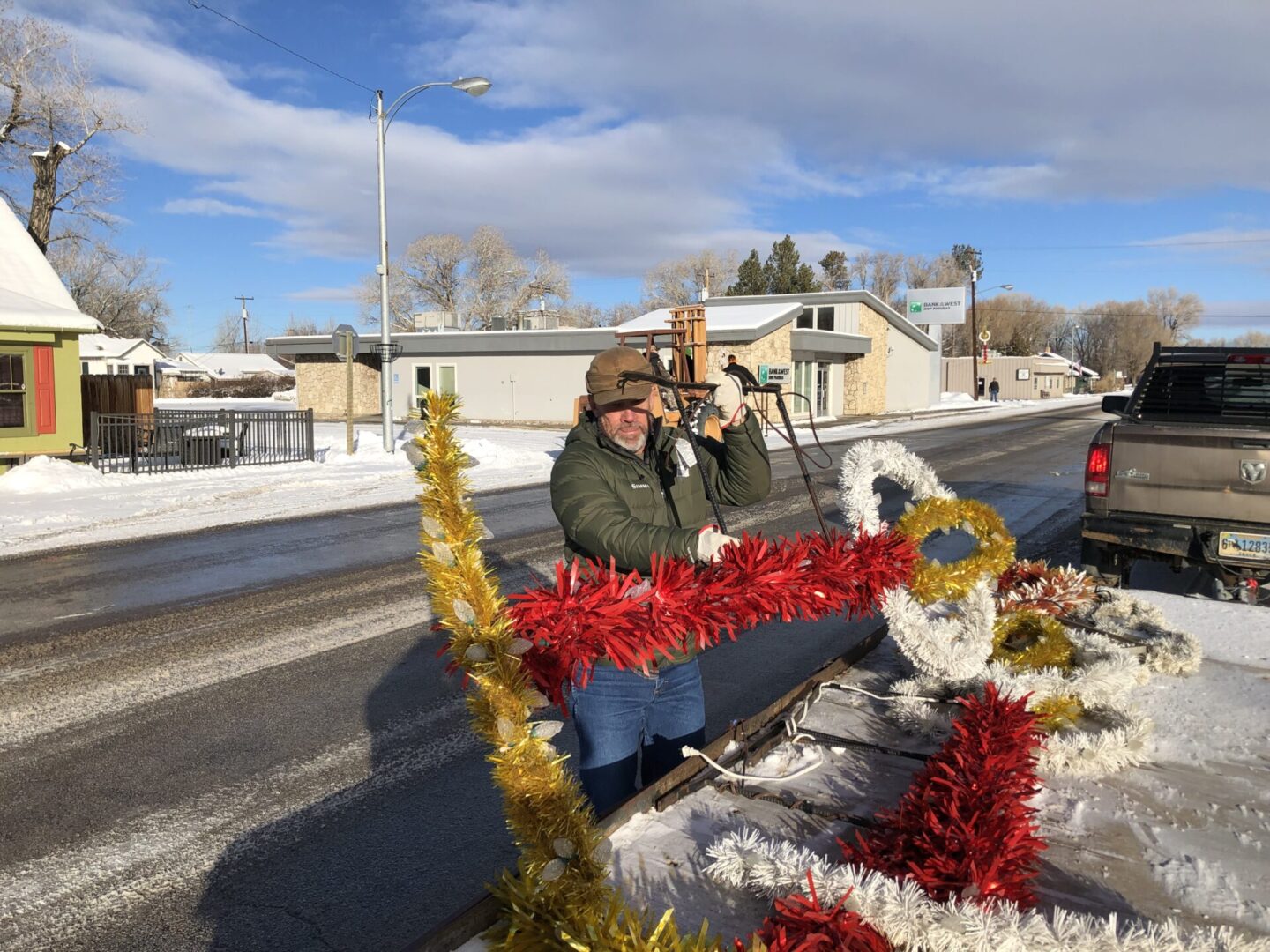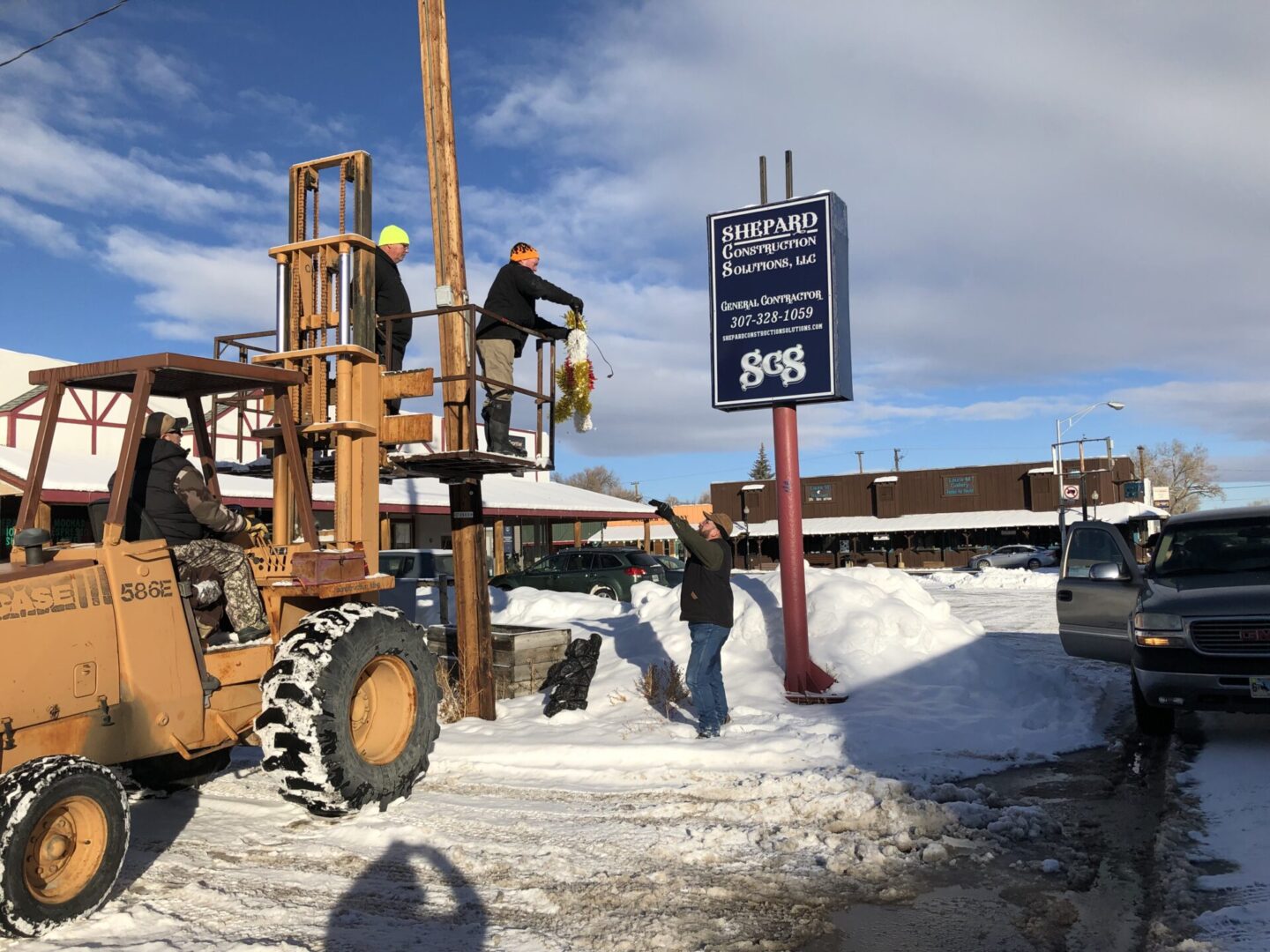 Annually the Saturday of Thanksgiving Weekend the Saratoga Lions Club hangs Christmas Decorations in Town and at the Community Center. Then the first Saturday after New Years the fixtures are taken down and stored. As far as anyone can remember the Saratoga Club has owned and maintained these decorations for in excess of 40 years.
The 6 1/2 foot candles have been rebuilt twice. Additional new decorations were purchased in 2008 and then 10 more following the Community Center dedication.
Pictured are Lion Randy Raymer on forklift, Lions James Beckmann and Ryan Munks in basket, and Lion Kevin Samsel placing decorations on trailer.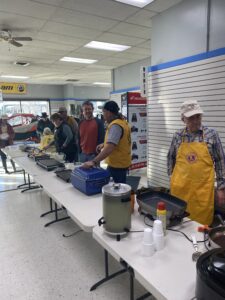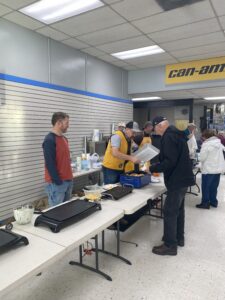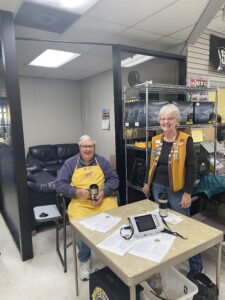 Sheridan Sundowners, Big Horn and Story Lions
Join Forces for Black Friday Fundraiser
Yes, we are supposed to get up early for Black Friday Shopping, but 4:30 a.m. to get ready for a Pancake Breakfast? Sheridan Sundowners partnered with Big Horn Lions Club and Story Lions Club to put on a Pancake Breakfast at the Sheridan Honda and Power Sports from 7-9 a.m. on Friday, November 25, 2022. Seventeen members helped set up tables and griddles, cook, make coffee, take money, pour drinks, mix batter, and clean up. We visited with breakfast guests, and provided club information.
The event was proposed to the Sheridan Club by the new Sheridan Honda manager, Candice Crane, originally from Wisconsin. Candice wanted to kick off the day before holding a car and sports vehicle auction at 9:30. Sheridan Honda furnished all the food which included sausage, bacon, and eggs along with pancakes.
Profits from this event were earmarked for our Vision Screening account, and we set a goal of $500. Lion Leslea Rapp demonstrated and discussed our vision screening machine, and some information about how the vision screening works was broadcast while people ate.
We served around 68 people, and Sheridan Honda generously donated the balance to help us reach $500. We are looking forward to continuing this fundraiser on a yearly basis and are very glad to have a new sponsor in the Sheridan business community.